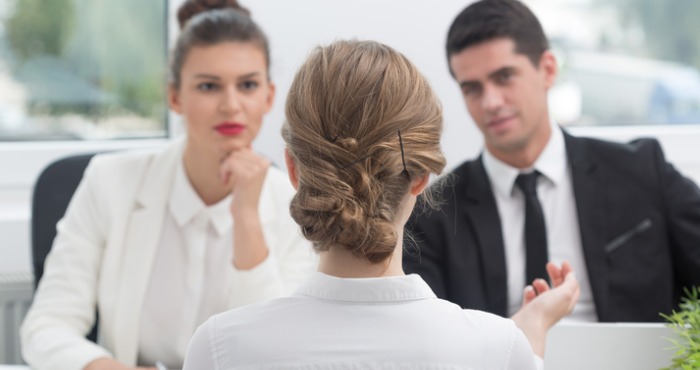 The key to acing a management interview at a life science company is simply smart preparation. If you are well-versed on the type of questions you'll be asked and the themes that will likely crop up, you're sure to make a good impression. You only have a small window of opportunity to prove to your interviewers that you're a talented leader, so make it count!

The first part of your management interview is likely to be more of an introduction. You'll be asked questions on your educational background, key skills and experience, so make sure you know your CV off by heart! These sorts of questions may not be the focus of this article, but they are still very important as they set the scene. Equally as important is the way you dress and behave as first impressions count for a lot. In fact, it's thought that interviewers make a decision about a candidate within the first 4 minutes of an interview! So, tick those boxes early on.
In the life science industry this is more significant than ever. Life science companies have one goal: saving and improving the lives of patients, and as a senior member of staff you will be a representative of their brand. Therefore, to have the best chance of success, make yourself familiar with the themes that the questions are likely to be based around.
Vital to success is mastering the art of answering competency-based questions and behavioural questions before preparing a bank of detailed examples for each possible scenario-based question. (A great way to increase your confidence is practising your answers with a friend, partner or family member in the lead up to the interview.) Most interviewers will use either one or both interview techniques to get a really clear idea of your ability to manage a team. Following the STAR structure will help you to answer both types of questions as it keeps your answers structured and concise:
Based on many years' experience working with life science companies, these are the most common themes that come up during management interviews:
Interview Questions on Leadership
At a management interview you will naturally be asked to describe your leadership skills. At a life science company, a lot is riding on having high-quality work done accurately and efficiently, particularly when you've got patients' quality of life on the line. Therefore, your interviewers will likely be looking for strong, detailed answers regarding:
Conflict resolution: how you handle team dynamics, manage difficult subordinates and resolve issues within your team
Team work: how you encourage your team to collaborate and support each other towards collective goals and objectives
Performance management: how you manage individual performances within the team and conduct performance reviews
Motivation: how you inspire your team to remain focused and engaged as they aim to exceed minimum expectations
When answering questions about leadership, interviewers will be looking for an experienced, well-rounded management style. Ensure that your answers highlight your ability to manage people strategically, decisively, creatively and that possess a good amount of emotional intelligence.
Example questions:
Describe a time where you had to give constructive criticism to someone, what happened and did it encourage them to improve their performance?
Tell me about a time where you had to stimulate an unmotivated team.
How do your team view you as a manager?
Describe a time when you had to manage a difficult employee
Describe your approach to motivating a team.
Knowledge-based Interview Questions
Life science companies are made up of highly-skilled professionals with a strong level of scientific knowledge, who are often experts in their field. This is important as the decisions you make may have an impact on patients, even if indirectly. Naturally, the more senior the position, the more responsibility and the more industry knowledge is needed. Therefore, answer technical questions in a way that best demonstrates your scientific know-how and experience of the industry. It's difficult to give examples of questions that may be asked, as they will be tailored specifically to your field within life sciences. They may go something like this:
How would you build/carry out/test/formulate _________?
What is the best way to ___________?
What does _________ mean to you?
What is your experience of _______?
Describe in detail __________
Interviewers will be also looking for evidence that you have a genuine interest in your area of expertise and closely follow industry trends, as staying ahead of the curve is vital to the success of life science companies. They want to employ people who will actively drive them towards the ultimate goal of bringing the most advanced and up-to-date healthcare solutions to patients.
Example questions:
Do you follow any industry publications?
Who are your biggest influences?
Are you a member of any industry organisations/bodies?
How do you keep up-to-date with changes within the industry?
Which websites do you use to find information? (You can also mention any apps you use.)
Interview Questions on Decision-making
In a management interview, proving that you are capable and experienced in high quality decision-making could set you apart from other candidates. They want to know that you make important decisions based on analysis, past experience, excellent judgement and naturally good instincts. Your answers should demonstrate when you:
Made high level decisions that directly affect stakeholders/clients/patients
Were fully accountable for your decision making
Made important decisions in time-sensitive and/or difficult situations
Example questions:
Describe an important decision you would make differently if you had the chance
Do you involve your team when making decisions?
How do you evaluate risk in decision making?
Describe a time when you had several directions/options available to you, all with different outcomes. How did you assess which choice would deliver the best result?
Interview Questions on Innovation
Scientific innovation fuels the life science industry and companies rely on their employees to develop creative solutions to complex healthcare problems – both in the lab and in the office. Your interviewers will be looking for signs that you have a unique, innovative vision and are a forward-thinking individual that takes reasonable risks.
Example questions:
Tell me about a time where you had a better creative solution to a problem than a more senior member of staff
What does innovation look like to you?
Tell me about a time where you took a risk when making an important decision, and what was the outcome?
How do you inspire your team to innovate?/How do you handle innovative ideas produced by your team?
Describe a time when you had to manage the planning and execution of your own novel idea, without knowing the possible outcome.
Integrity-based Interview Questions
Another core behaviour your interviewers will want to see in a leader is integrity. Prepare examples of when you've demonstrated sound ethics and good judgement, and others proving that you are trustworthy, respectful and reliable. A great skillset and years of experience will mean nothing if you cannot be trusted to uphold the company's values, which is often a big part of a life science company's culture due to their 'patient first' approach.
Example questions:
What does diversity/ethics mean to you as a manager?
Tell me about a time when you disagreed with a colleague over an important decision. How did you handle the situation?
Describe a time when you managed a diverse team
Tell me about a time where you showed integrity at work?
Describe a time when someone asked you to go against the rules to do something. How did you handle the situation and what was the outcome?
These may be the most common themes to be drawn upon in a management life science interview, however the list is not exhaustive. It would be beneficial to prepare answers around other topics including dealing with pressure/stress, showing initiative, working with clients, ability to influence and communication skills.
You can find more information on preparing for interviews on Proclinical's blog. If you're a contractor, you will benefit from downloading our contractor's interview guidebook for a more in-depth look at interview preparation.