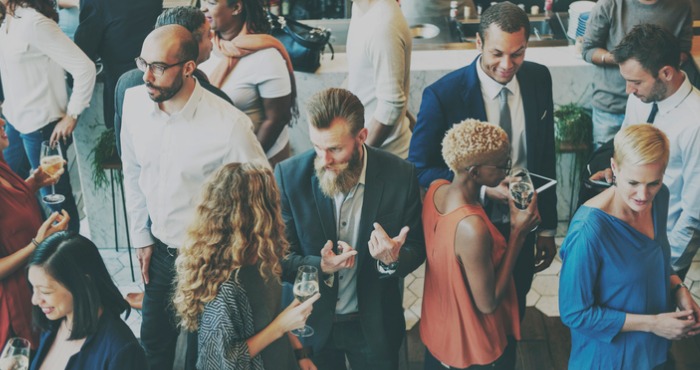 Networking can be one of the best ways to increase the chances of advancing your career within the life sciences industry. It can support your future applications by having hiring managers and other influential team members already know who you are and have an understanding of your skills and personality.
According to some sources, those who are referred are 3-4 times more likely to be hired by a company. In fact, 88% of employers say referrals are their first choice when it comes to above-average applications, according to Medium Corporation. Once hired, research also suggests you're more likely to stay at the company - with a 45% retention rate after two years, compared with only 20% if you'd gone through a job board. However, these referrals don't just happen instantly, they require significant time investment in building up a list of good contacts.
Achieving a good network, however, can be difficult and requires various resources and significant time investment. Here's a few ways to get started:
Networking Events
One of the best methods of achieving a good network is to attend industry conferences and talk to people from the industry face-to-face.
If you're an introvert, approaching a complete stranger at a conference or networking event can take you far outside of your comfort zone, but is going to be necessary to be able to build relationships with people who can help you in your career. If you are an extrovert on the other hand, be sure to show an interest in the other person and not just continuously talk about yourself. Good people skills can often be more instrumental to your career success than your technical ability. Fortunately, there are a lot of great books on improving your networking that can help you develop this skill.
No matter which sector within life sciences you work in, there will be a relevant conference to go along to. Conferences offer one of the best returns because it's one of few instances where so many high positioned managers will be in one place. Many of these events are structured specifically to facilitate networking between professionals and companies in the same industry.
Here are a few examples of conferences across various industries within life sciences:
ISPOR (HEOR and Market Access)

RQA (Quality Assurance)

TOPRA (Regulatory Affairs)

Medica (Medical Affairs)

MD&M - Medical Design & Manufacturing (Quality Assurance)

Be sure to take some business cards with you to each event. Although these can be produced fairly cheaply it is best that you use them sparingly. Talk to different delegates and learn their job role and what responsibilities they have. Only give your card out if you feel that the individual could be of benefit to your career.
However, be aware that some of the best contacts to speak to are recruitment consultants. These events will be attended by various recruitment consultants, including representatives from Proclinical. Even if you aren't looking for a job now, getting your name on a recruiter's database can allow you to be one of the first to be called should a suitable chance for advancement arise in the future. Otherwise you may lose out in the future. For example, Proclinical consultants have large networks of contacts at a variety of life science companies, from innovative start-ups to leading global giants, and can put your CV in front of the right people at these companies.
When you have met persons of interest at these events, don't forget to connect with them on LinkedIn to ensure they don't easily forget you. It also shows your interest in forming a long-lasting relationship.
A few tips on making a good first impression:
Make yourself as approachable as possible: Pay attention to your body language and try to smile.
Don't be too salesy: Forcing a sales pitch about your skills and experience to people too early on is a sure way to kill the conversation. Try and bring it in as naturally as possible.
Do your research: Make the most out of a small window of opportunity with each person by reading up about them beforehand and having a few questions prepared. This will also help with nerves and keep the conversation flowing.
Customise each business card: For example, you could write down another number or email address they can reach you on or place a web link on there to highlight projects you have completed. Giving a personalised card often increases its retention.
Social Media (LinkedIn)
Social media is one of the easiest ways to network within the industry today. It's also playing an increasing role in recruitment. Around 95% of recruiters use social media to advertise job opportunities, and 70% of employers are using social networks to screen potential hires.
There are several different platforms you can use to help build your professional network, though the best are Twitter and LinkedIn.
LinkedIn is possibly the better of the two options. Through LinkedIn, you create a profile which reads like an optimised CV. Placing in a few choice keywords which are related to your skills and experience and what direction you are hoping to go into in the future is an effective way to get yourself noticed. An optimised CV will allow head-hunters and recruiters, as well as potential employers, to find and connect with you through the social network. Make it easier for them by placing the right keywords on your profile so you'll pop up on searches.
If you want your connections to recognise and remember you, be sure to interact with them by commenting on their posts (not just hitting like) and by creating and sharing content of your own that demonstrates your expertise.
Social media platforms, including those on LinkedIn, offer the opportunity to join a few relevant industry groups and converse with fellow members. Even people who don't have much influence now are good to connect with, as you can share tips as you develop and they may be able to refer you in future. There are several groups which are really good for this and they include:
As you increase your participation in these networks you will find that more individuals will reach out and connect with your profile. From there you can contact those of interest on a one-to-one level and identify and secure new employment opportunities.
Also use the premium features to search individuals in your field who are outside of your current network. Strike up conversations with these individuals and when they have gotten to know you, request that you connect with each other.
Ask those who connected to you to endorse your skills. In return, to keep the goodwill going, do the same for them.
Lastly, use the network to see who is looking at your profile online and then look at theirs. If their connection may be of interest to the advancement of your career then go ahead and request to connect. Over time as you interact with these individuals you will learn of opportunities and eventually one may arise which you will be interested in.
Networking certainly takes time and effort, yet with the rise in social recruitment and the ever-present reliance on who you know rather than what you know, building a network is more essential than ever. Take any opportunity you have to create a new contact within the industry, whether that be with a potential employer or a recruitment consultant who works in the industry. Identifying key influencers and interacting with them to demonstrate your skills, personality and commitment over a long period will have a positive effect in advancing your career within life sciences.