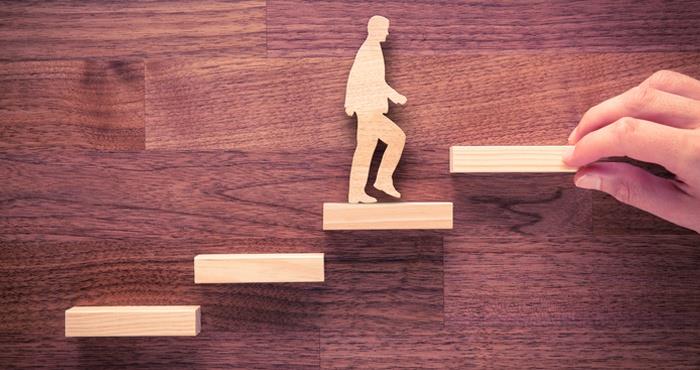 Want this to be the year that you take the next big step in your career? Navigating the rocky road to a promotion can be tricky. Depending on your industry and company, there may be different processes in place regarding career development. In some cases, there may be none at all. Often, it's up to you to make a promotion happen.
Here are a few things to carefully consider when aiming for your next promotion:
Know your goal
Take a few moments to think clearly about your motivations for wanting a promotion. Will a promotion fully solve your problem? For example, if you are primarily looking for more money, perhaps asking for a pay rise in your current position will better suit your needs. Often, when people seek a promotion they are not truly interested in taking on more responsibility or do not have the capacity to do so due to other commitments.
Taking on more responsibility comes hand in hand with high-pressure tasks and longer working hours. So, if you are not ready for everything that comes in the promotion package, consider asking for a pay rise or negotiating with your manager how your current role can better suit you.
Make others aware of your ambitions
One of the biggest misconceptions is that all promotions naturally occur over time. While this may be true for a small number of companies that have a rigid career development programme, the reality for many is that promotions aren't simply handed out. Instead, you must use your initiative to make the right people aware of your ambitions.
If you wait around to be noticed and approached with a promotion, you will continuously miss opportunities to show how ambitious, determined and engaged you are. You may also be less motivated to display to management how capable and ready you are for the next step. Failing to show active interest in your own career progression could make you appear apathetic and unmotivated – traits that management avoid when looking to promote someone!
It is also very important to consider who is best to discuss your potential with. Many will see their manager as an obvious choice, and often this is the natural course. However, in some situations, you could be faced with resistance from a manager who may view your ambitions as a threat, or becomes agitated at the prospect of losing you from the team. Sometimes, your progression is simply not in their interest. While not every individual will allow this to get in the way of your career development, on occasion this will be the case – often unconsciously. If you are not entirely confident that your manager has your best interest at heart, be sure to seek out someone suitable who will review your request for promotion objectively.
Promote yourself as the best candidate
If you're working for a large company and/or within a big team, you could face competition against other colleagues for the same promotion. In these instances (but also as a general rule as companies also consider external candidates), you must demonstrate to the decision maker(s) that you have better skills, more relevant experience and a superior work ethic compared with your internal and external rivals.
Begin by reviewing the job description of the role you want and try to gain a deep understanding of what your manager is looking for in the ideal candidate. Be aware that considerations often go far beyond your ability to fulfil the job description. Hiring managers will look for signs of your commitment to and engagement with the company's mission and goals. Professionalism and integrity is increasingly valued as employees become more senior within a company. Indeed, how you conduct yourself is vital as managers tend to steer clear of employees who gossip or display a negative attitude.
Have you done all you can to prepare for a promotion?
Before broaching the subject of a promotion to management, consider carefully if you have done everything in your power to become an outstanding prospect for the new role. Sometimes there may be a skills gap standing between you and a promotion, or a lack of experience. Here are a few things to do to improve your chances:
Take on more responsibility within your current role
This could mean volunteering to cover some of your manager's duties when they are on holiday or off sick. It could also mean having a conversation with your manager about taking on more important and/or diverse tasks permanently. This could be a great trial period for both you and the hiring managers to see how you deal with the extra responsibility.
With so many great resources at our fingertips (and many of them free!) there is little excuse to not invest time in your own career development. While more conventional ways to learn still exist and are of great use, such as reading books and attending seminars and conferences, in this day and age it's easier than ever to learn. With a few clicks you could download a whitepaper, attend a webinar or access industry forums. Even while browsing through social media platforms like LinkedIn you will come across countless informative and insightful articles discussing industry trends and predictions, or teaching a new skill or approach.
Learning new skills is a great habit to form, particularly to ensure future adaptability in a world that is constantly changing and progressing.
This is not quite the same as a promotion but depending on your motivations, a lateral career move could be the answer. It's a great move if there are no current opportunities for promotion within your current team. This could be a permanent move or simply a secondment, but either way it is a smart way to diversify your skill set whilst exposing yourself to a different aspect of your department or the wider company.
When seeking a promotion later, this exposure could prove very valuable so making yourself as well-rounded employee with diverse experience could be worth putting the promotion on hold for a few months. A side step could also prove to be an alternative route to getting to where you originally wanted to be.
Have you considered other opportunities?
Unfortunately, you may find that your current company simply does not offer the career progression you need, and the only option is to look for the next step up at different company. Often it could mean accepting a position at a similar level that comes with a clear path of progression, or a direct move into a more senior position.
If you think that moving companies is the right way to get the promotion you want, but are unsure of your next steps, speak to a recruitment specialist within your industry. For example, Proclinical's recruitment consultants can connect you with an array of life sciences companies that offer excellent career development and training opportunities to suit every ambitious, hard-working individual. Recruitment consultants can also help you weigh up your long-term priorities to make a well-rounded and considered decision about your future career.
To speak to a recruitment specialist at Proclinical, please get in contact with us or upload your CV. Alternatively, you can browse through our current opportunities to find your ideal role.