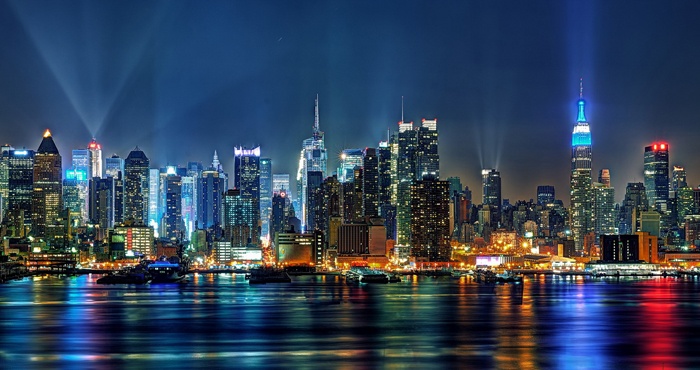 Hailed as a life science hub, New Jersey is the home to an impressive collection of pharmaceutical, biotechnology and medical device companies, many of which are industry leaders. In 2015, 50% of new FDA approvals came from companies that have a base in the New Jersey region. Employing approximately 116,000 people, New Jersey is a thriving nucleus of life science talent.
Below is our list of top employers, that between them, create thousands of life sciences jobs in New Jersey and make the Garden State one of the best places in the world for life sciences talent to thrive.
Pfizer
One of the biggest biopharmaceutical companies in the world, Pfizer is known for best-selling products such as Viagra, Advil and Centrum. The company develops drugs and treatments in many therapy areas such as oncology, rare disease and metabolic disease, with a particular focus on vaccines and medicines that can prevent disease. Pfizer has four offices in New Jersey - Madison, Peapack, Morristown and West Trenton – that employ 2,000 life science professionals according to recent reports.
Stryker (Orthopaedics)
Stryker is a US medical device company headquartered in Kalamazoo, Michigan. The company spent an impressive $715 million on research and development in 2016, and its products reached patients in over 100 countries worldwide. Stryker is regularly voted a top employer, receiving recognition as the best workplace for millennials, women, parents and LGBT equality. The company develops reconstructive, surgical, and neurotechnology and spine products in an effort to improve global healthcare. The company has a manufacturing site in Mahwah, NJ, called Stryker Orthopaedics, as well a surgical supply store in Allendale. In 2016, Stryker employed approximately 2,080 people in this region.
Sanofi
French company Sanofi is one of the leading pharmaceutical employers in the world, with many subsidiary companies that include biotechnology, consumer good and patient healthcare organisations. Sanofi's North American headquarters are based in Bridgewater, NJ, as well as the subsidiary, Sanofi Genzyme Biosurgery, which is located in Ridgefield. Combined, 2016 figures showed that Sanofi employees in the New Jersey area totalled 2,443. The company develops innovate drugs and treatments in a wide range of therapy areas including autoimmune diseases, infectious diseases, cardiovascular and metabolic diseases.
L'Oreal USA. Inc
The world's largest cosmetics company, L'Oreal has its headquarters in Paris, France. The company is world-famous for its vast array of popular brands including Garnier, Maybelline and NYX Cosmetics. L'Oreal employs 10,000 people who are scattered across Europe, North America, South America and Africa. New Jersey is home to three L'Oreal sites with 2,500 employees (in 2016): a research center in Princeton, a manufacturing site in Somerset and an evaluation center in Clark, NJ.
Bayer Healthcare
Bayer Healthcare is a German pharmaceutical company that is fast becoming a household name, with many well-known products such as the antihistamine drug Claritin and vitamin supplement Berocca. Bayer employs 12,000 people across six continents, including countries in Africa, South America and South East Asia. Currently, it ranks 8th on the list of top 10 companies to work for according to Glassdoor. The company's base in the USA is located in Whippany, NJ, and had approximately 2,800 employees on site in 2016.
Celgene
Celgene is a global leading pharmaceutical company that has its headquarters in Summit, NJ. The company employs 7,000 people worldwide in more than 60 countries, and specialises in an extensive number of therapy areas including haematology, inflammation, immunology and orphan diseases. Celgene operates all over the USA, but has offices based in New Jersey in Summit, Warren, Berkeley Heights and Basking Ridge.
Novartis
Swiss pharmaceutical company Novartis is a global provider of breakthrough treatments that reach patients in over 180 countries. Its pipeline features some exciting drugs being developed in immunology and cell and gene therapy. Novartis employs an impressive 181,700 worldwide, and in 2016 there were 5,149 employees spread across multiple sites in New Jersey, in locations such as Princeton and East Hanover.
Bristol-Myers Squibb
Leading pharmaceutical company Bristol-Myers Squibb has 18 offices based in North America – seven of which are located in New Jersey. In 2016, most of their 6,300 employees based in New Jersey were concerned with research and development (R&D), but others managed commercialization and late-stage development, sales force training and information management. Bristol-Myers Squibb focuses on a broad range of therapy areas including oncology, cardiovascular and immunotherapy, and boasts an impressive and varied pipeline.
Merck & Co.
Biopharmaceutical giant Merck has its head offices in Kenilworth, NJ, and is the second biggest employer in the region. The company specialises in developing a wide range of drugs and treatments, including vaccines and biological therapies, to combat global unmet medical need. Out of their 68,000 employees worldwide, 9,800 worked at the Merck headquarters in New Jersey in 2016.
Johnson & Johnson
The biggest life sciences employer in New Jersey is Johnson & Johnson, a biopharmaceutical company headquartered in New Brunswick. The company has been a staple household name for several decades thanks to its vast collection of top-selling drugs and products that are sold in over 175 countries worldwide. There is also a consumer division of the company based in Skillman, NJ, that manufactures over-the-counter goods such as baby, nutritional, skin and hair products. Figures show that J&J had 127,100 employees in total in 2016, 7,437 of which worked in their New Jersey offices.
If you are interested in working for one of the top life science employers in New Jersey, please upload your resume to our website, or apply for job opportunities and our specialist life science recruitment consultants will be able to assist you.