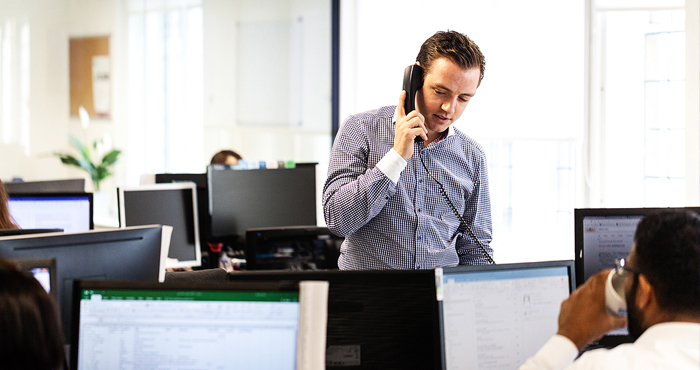 Proclinical is a life sciences recruitment company that was originally built on employing individuals with a degree in life sciences or experience working in the pharmaceutical industry and training them to become recruiters. But what makes recruitment such a great career, and how do you get a job as a recruitment consultant?
People spend about a third of their lives at work, so moving to a new job is literally life changing! Recruitment consultants help to change people's lives every day, and they will tell you how amazing it feels to be thanked by someone after they have found a candidate their perfect job. Recruitment is a fast-paced and competitive career, where no two days are the same. Successful recruitment consultants can also make a good living through sales commission and target-based incentives. The latest statistics show that the number of people working in the recruitment sector is more than 93,600 in the UK alone. The sector is also growing rapidly in Europe and internationally.
What skills do I need to become a recruitment consultant?
A career as a recruitment consultant can be very rewarding in both job satisfaction and financially, but it's not for everyone. Before you start thinking about how to get a job in recruitment, you should first consider if you have the following attributes that you will need to become a successful recruiter.
People skills: To work as a recruiter, you must have great people skills. There's more to it than being a good communicator (although this helps too). An effective recruitment consultant should be able to empathise with candidates and clients alike, by listening to them and understanding their motivations and then how to respond.
Organisational skills: Jobs in recruitment require you to organise and communicate with a huge network of individuals. You will need to coordinate other people's lives and balance multiple things for different people at the same time, so you must be organised and reliable, particularly when they are not.
Drive: Recruitment is highly competitive and there are times when things won't always go your way. Even if you have put a lot of hard work into finding a great candidate for a job, the client might prefer someone else or one party might back out at the last minute; through no fault of your own, your hard work can amount to nothing. This set-back can be hard to take so you must be resilient. Consultants need to be highly driven and determined to succeed in order to survive and thrive in recruitment.
How do I get the necessary experience?
Work at a recruitment agency is usually easier to come by if you have some previous sales experience or have worked in a position in which you have had to be persuasive or negotiate deals over the phone –eg, working in a call centre. A recruitment consultant should be able to call employers to enquire about their vacancies and persuade them to hire their candidate, so proven experience and confidence in performing similar tasks is highly advantageous.
In a specialist life sciences recruitment agency, such as Proclinical, experience in the sector is also desirable. Having an understanding of the role that you are recruiting for and the environment that your candidate will be working in is a huge advantage to being able to empathise with them and gain their respect and trust. This understanding will be a great help to accurately matching the right person to a job.
Tips for applying for a job in recruitment
If you want to work in recruitment, there are a few ways to approach your application. You might find some recruitment agency jobs advertised online on career sites and company websites, but vacancies aren't always advertised and often recruitment companies are flexible in creating positions when a talented person with good potential comes along.
Hiring managers at recruitment companies will be impressed by applicants that are able to demonstrate skills that are used on the job. One of the most effective and widely used tools in recruitment today is LinkedIn. Think of your LinkedIn profile as your online CV and present it as such, listing your qualifications, skills and professional experience. For a small subscription cost, you can upgrade to a premium account that allows you to find and connect to the people responsible for making decisions on hiring. Send them a message, explaining why you want to work for them or better yet, demonstrate your confidence using the phone by calling them directly and pitch yourself over the phone. Try to close by obtaining their direct contact details to send your CV to or by arranging a time and date for an interview.