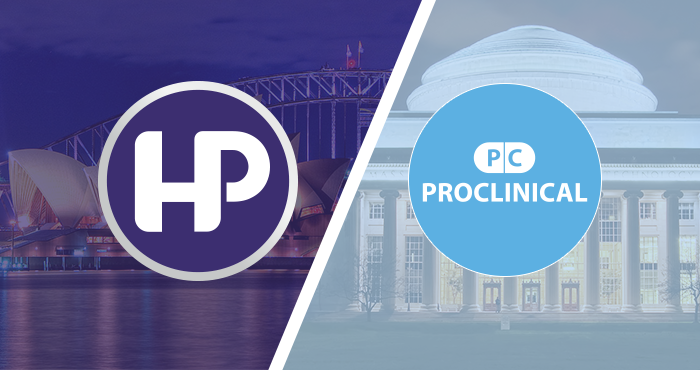 The global life science recruitment market is set for a shake-up as one-time competitors Proclinical and Hobson Prior announced that they are set to form a strategic alliance, combining their workforces in Hobson Prior's existing offices in Boston, USA, and Sydney, Australia.
The pair, who share a parent company following Proclinical's recent acquisition by Independent Clinical Services (ICS), have struck a mutually beneficial agreement for members of Proclinical to work side-by-side with Hobson Prior's existing teams at their East Cambridge office, close to the Massachusetts Institute of Technology (MIT) with immediate effect, with the arrangement to be replicated in Sydney from next week. The combined teams will continue to operate as Hobson Prior in Sydney, whereas the Boston office will now align itself with the Proclinical brand.
Proclinical will be hoping to replicate the success of their other offices in North America, where they are currently operating within other key life science hubs; New York, NY, Philadelphia, PA and San Francisco, CA, with the added boost of Hobson Prior's ready-made team on the ground in Boston providing instant scale. Combining forces in Australia will further strengthen the group's network in the Asia Pacific market which already benefits from Proclinical's offices in Singapore and Shanghai. At present there are no plans to completely merge the two companies, who will remain separate throughout the rest of their network in the UK and continental Europe.
When commenting on Proclinical's global vision following the move, Proclinical's CEO, Daniel Smart said: "We are delighted to be working in partnership with Hobson Prior and strongly believe that this collaboration will benefit both parties, providing greater scale and the sharing of ideas which will result in an enhanced service for both sets of clients and candidates. We are grateful to Hobson Prior for their willing approach to collaboration, and how receptive they have been following our introduction through ICS. Both Australia and Massachusetts have been long-term strategic targets for Proclinical, and this move now gives us the opportunity to better support existing demand from our current clients and win new business by firmly establishing our presence right across North America and the Asia Pacific region."
As the biotech capital of the East Coast, Boston is considered by many to be the heart of life sciences R&D innovation, not only within the United States, but globally. The state of Massachusetts provides over 99,000 life science jobs according to the Boston Globe, with a very high concentration of skilled professionals working for a range of innovative biotech start-ups, global biopharmas and academic/research institutions. Boston is also the recipient of 1/3 of the industry's venture capital funding and attracts some of the leading technology companies in the country, which fuels its innovation.
Australia's life sciences industry employs over 232,000 people and it is reportedly among the top five countries globally for biotechnology according to AusBiotech. The pharmaceutical market is set to rise from just over $22.85 billion in 2016 to $23.2 billion by 2020, according to GlobalData.
About Proclinical
Proclinical is a leading global staffing services provider that specialises exclusively within the life sciences industry. Our client base includes leading global pharmaceutical and biotechnology companies, medical device and health tech pioneers, and associated life science companies, including CROs and the outsourcing sector.