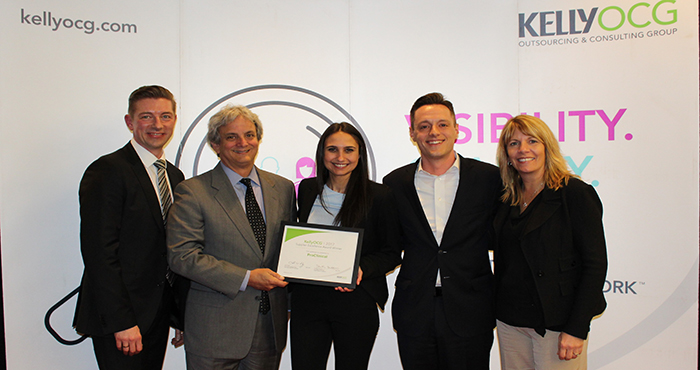 TROY, Michigan - April 12, 2018
Proclinical was recently recognized by KellyOCG®, the outsourcing and consulting group of Kelly Services®, with a Supplier Excellence Award at an event in Troy, Michigan. The award is presented to top-performing suppliers in the USA that provide superior workforce solutions, and whose service, results and strategic partnerships have made a significant impact on KellyOCG's business.
"This award program helps to further strengthen our supplier partnerships with companies such as Proclinical that offer diverse delivery models and capabilities to meet the unique talent requirements of our broad customer base," said Thorsten Koletschka, supplier strategy and engagement lead, Global Talent Supply Chain Organization for KellyOCG. "It's important to recognize the top performers in our supplier community and the impact our partnership with Proclinical has on lives of workers."
This year, KellyOCG recognized 31 of its top suppliers from Europe, the United States and Asia Pacific. More than half of the award recipients were diverse suppliers.
Proclinical was evaluated on three criteria:
Scorecard results of their performance within KellyOCG-managed programs

Compliance with legal and program-specific requirements

Engagement survey results from KellyOCG stakeholders assessing the ease of doing business with the supplier and the supplier's partnership approach.

Proclinical looks forward to being further strengthened by KellyOCG's one-on-one development sessions; a designated KellyOCG representative to support business growth; participation in supplier focus groups; access to KellyOCG's supplier insight; and the ability to work directly with KellyOCG senior leaders. All of which, Proclinical believes, will help it deliver first-rate recruitment solutions to clients and candidates across the North American region.
About Proclinical
Proclinical is a leading global staffing services provider that specialises exclusively within the life sciences industry. Our client base includes leading global pharmaceutical companies, biopharmaceutical companies, biotechs, medical device pioneers, and associated life science companies, including CROs and the outsourcing sector.

About KellyOCG
KellyOCG is a leading global advisor of talent supply chain strategies that enable companies to achieve their business goals by aligning talent strategy to business strategy across all internal and external worker categories. Core solutions include Advisory Services, RPO, CWO, Business and Professional Services, and Career Transition. Please visit www.kellyocg.com.
Media Contact:
For more information, company images, quotes etc. please contact Peter Hogg on 0203 0789 577.