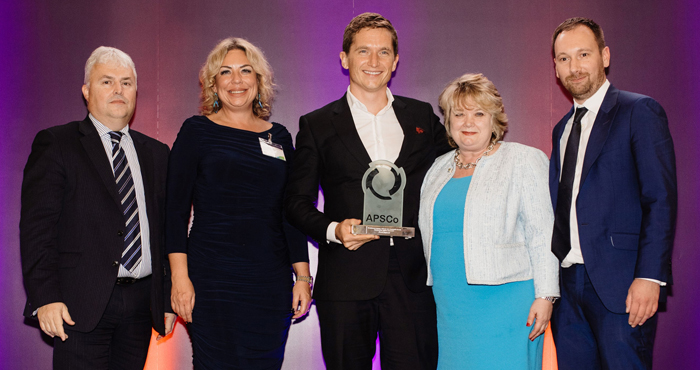 London, 18th October, 2018
For the third consecutive year the specialist life science recruitment consultancy has received an accolade from the Association of Professional Staffing Companies (APSCo) at their annual Awards for Excellence ceremony. However, this year Proclinical is delighted to be recognised in a different category for the first time by winning Recruitment Company with the Most Sustainable Growth.
The award goes to the recruitment company that shows the most consistent growth over a 5 year period, whilst upholding the professional values and exceptional performance associated with APSCo membership. Having fulfilled this criteria to a high degree, the staffing body named Proclinical as the winner, praising the company's "outstanding year on year performance… [with a] truly impressive global solution with expansion into new territories, significant investment in recruitment and retention, and diversifying into new sectors smartly."
In previous years, Proclinical has been awarded Recruitment Company of the Year and International Recruitment Company of the Year, however, receiving this year's award for the Most Sustainable Growth is particularly gratifying for the company. Daniel Smart, Proclinical's CEO, is thrilled with the award: "After being highly commended for this accolade last year, to go on and win this year is welcome recognition for the hard work and collective achievements of everyone at PC around the world. "
In 2018 alone, Proclinical's main European office grew by over 50 specialist consultants, Shanghai was launched and operations in the USA exploded with the opening of three new offices in Boston, Chicago and San Francisco. Proclinical's track record for year on year international growth has been exceptional, with total net fees and turnover expected to grow by 40% in 2018, and following recent investment from ICS the company is set to soar to even greater heights.
About Proclinical
Proclinical is a leading global staffing services provider that specialises exclusively within the life sciences industry. Our client base includes leading global pharmaceutical and biotechnology companies, medical device and health tech pioneers, and associated life science companies, including CROs and the outsourcing sector.