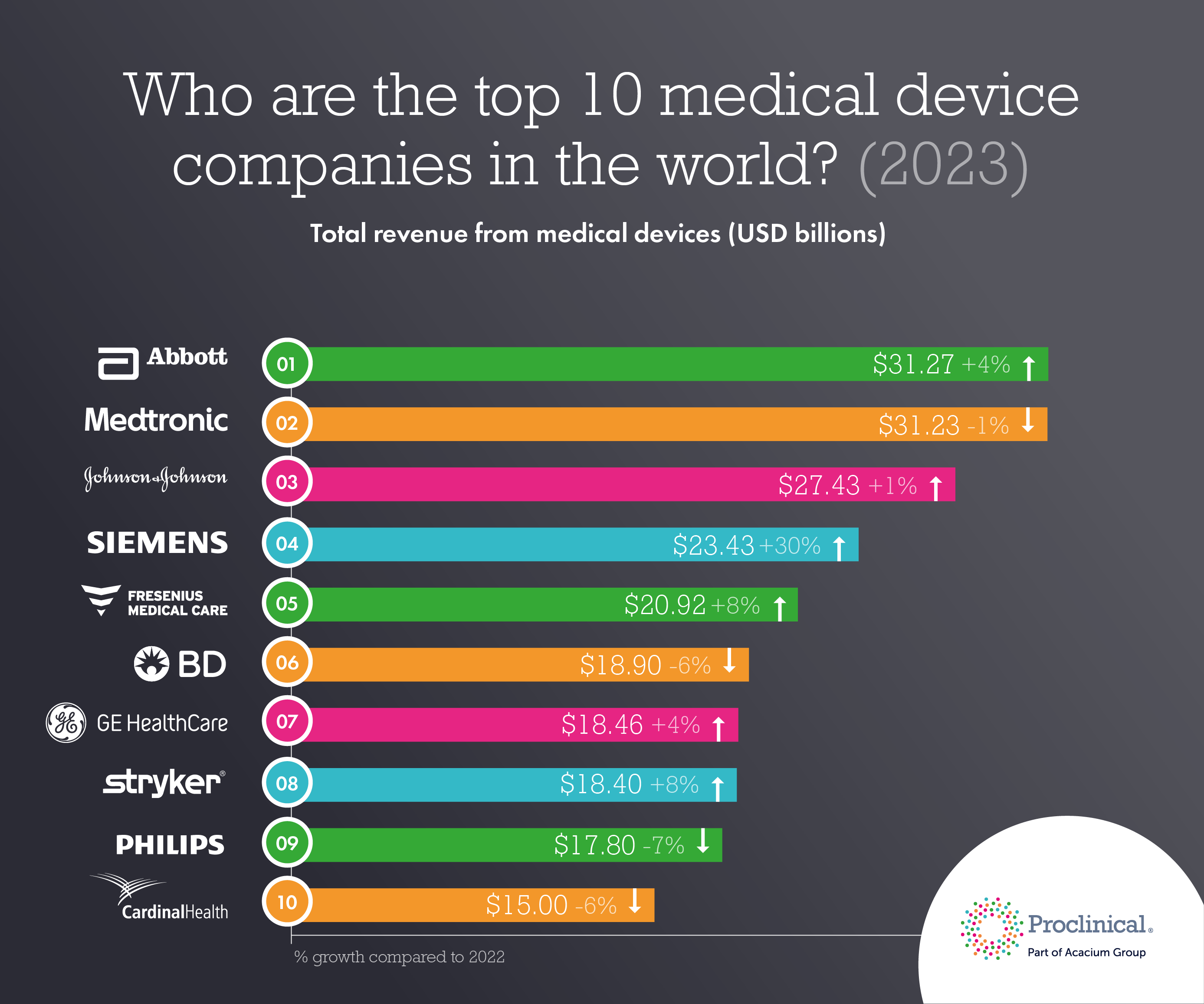 The global medical devices market was valued at $512.29 billion in 2022, and is projected to reach nearly $800 billion by 2030. Growth is being fuelled by the growing prevalence of chronic diseases and an increase in surgical and diagnostic procedures, which is in turn encouraging companies to improve, develop and create new innovative medical advancements.  
In the list below, we have ranked the leading medical device companies by their 2022 revenue, looking at their medical devices segment results only.
The top 10 biggest medical device companies in the world in 2023:

10. Cardinal Health
US$15.9bn -6%
Headquartered in Dublin, Ohio, Cardinal Health is a global manufacturer and distributor of medical and laboratory products, and a provider of performance and data solutions for healthcare facilities. With over 50 years of experience and 46,000 employees, the company is widely recognised for providing pharmaceuticals, medical products and services that help healthcare providers. After a tough 2022 significantly impacted by inflation and supply chain constraints, in the fiscal year of 2023, Cardinal Health's Medical segment sales fell by 6%, largely caused by a decrease in demand for PPE.
In a press release, Jason Hollar, CEO of Cardinal Health, commented "We are pleased with the strong finish to the year, including robust cash flow generation, continued strong growth in the Pharmaceutical segment and significant improvement in the Medical segment, driven by execution of our Medical Improvement Plan. We enter the new fiscal year with momentum and are raising our previously communicated fiscal year 2024 EPS guidance."

9. Philips
US$17.80bn (-7%)
With over a hundred years in business, Philips is a diversified technology company. Philips' healthcare division makes up 42% of its global revenue and is made up of three key areas: Diagnosis & Treatment, Connected Care, and Personal Health. In 2022, Philips' health products and solutions sales totalled US$17.8bn which was down by 7% compared to the previous year. An unfavourable performance was due to operational and supply challenges, the Covid-19 situation in China, the consequences of the Respironics field action, and the Russia-Ukraine war.
In light of the company's full year results, CEO Roy Jakobs expressed "2022 was a very disappointing year for Philips and its stakeholders, and we are taking firm action to strengthen patient safety and quality, improve our execution and step-up performance with urgency in 2023."

8. Stryker
US18.40bn (+8%)
Founded in 1941, American multinational Stryker has grown into one of the world's leading medical technology companies. With 46,000 employees worldwide, Stryker focuses on creating innovative solutions in orthopaedics, medical and surgical solutions, neurotechnology and spinal care that help improve patients' conditions and hospital outcomes.
In 2022, Stryker reported full year revenues of US$18.4bn, this was as a result of a solid performance for all divisions with particularly strong sales for MedSurg and Neurotechnology (+11.2%), powered by medical products with higher volume sales driven by demand from emergency care and acute businesses.
Looking ahead, despite volatile macro-economic environment which is causing supply chain disruptions, inflationary risks and currency fluctuations, Stryker maintains good momentum and expects to deliver strong growth in 2023.

7. GE Healthcare
US$18.46bn (+4%)
Just beating Stryker to 7th spot is leading global medical technology and life sciences company, GE Healthcare. With a broad portfolio of products, GE Healthcare is widely recognised for its imaging, ultrasound, software and life care solutions. Serving patients and providers for more than 100 years, GE HealthCare is advancing personalized, connected, and compassionate care.
In 2022, GE Healthcare's sales totalled $18.3 billion, reflecting an increase of 4%, driven by Imaging and Ultrasound. Acquisitions also favourably impacted total revenues. In an earnings call, GE HealthCare President and CEO Peter Arduini said, "GE HealthCare delivered strong revenue growth in the fourth quarter and full year 2022 driven by robust end market demand, improved pricing, and easing supply chain pressures. Revenue growth reflects our progress to offset delivery challenges and improve product fulfilment." He went on to add, "Looking ahead, we're confident that our accelerated investment in innovation, as well as standardization across platforms, will drive revenue and margin growth. We're seeing customers continue to invest along with macroeconomic tailwinds, such as increasing healthcare digitization, expanding access to care, and an aging population globally. We are well positioned to deliver on our 2023 commitments."

6. Becton Dickinson & Company
US$18.90bn (-6%)
A staple to the top 10 is the pioneering global medical technology company, Beckton Dickinson & Company. Commonly referred to as BD, Beckton Dickinson & Company is an American multinational that manufactures and sells medical devices, instrument systems, and reagents.
After strong growth in 2021, with sales rising by 18%, Becton Dickinson & Company saw revenues drop in 2022 with the spin off of its Diabetes Care business, now known as Embecta Corp. However, the company continues to advance its innovation-driven growth strategy, and launched two notable products in 2022: Software solution, the BD Research Cloud and BD Effivas, a next-generation glass prefillable syringe. They also announced they had made an agreement with Biocorp, furthering BD's commitment to smart, connected care.
In a press release, Tom Polen, chairman, CEO and president of BD said, "We delivered reliable, consistent performance that reflects our team's unwavering commitment to our purpose and the execution of our growth plan – while navigating the challenging macro environment all companies are facing. Looking forward, our strong performance and momentum increases our confidence to continue to create substantial, sustained value for all stakeholders."

5. Fresenius Medical Care
US$20.92 (+8%)
German-based international healthcare company, Fresenius, rises to 5th place in 2023. Fresenius Medical Care is the world's leading provider of products and services for individuals with kidney diseases of which nearly 4 million patients worldwide regularly undergo dialysis treatment.
Despite economic headwinds, Fresenius Medical Care saw revenues rise by 8% YOY. Growth was mainly driven by a solid performance in EMEA. The company announced it had implemented its new operating model with two global segments: Care Enablement (Health Care Products) and Care Delivery (Health Care Services). This new operating model provides increased transparency to drive the targeted business performance improvements.
Looking ahead, Helen Giza, Chief Executive Officer of Fresenius Medical Care, said: "Our clear focus in the coming years will be on improved operational performance and our transformation efforts to ensure shareholder value creation. This will involve even bolder steps to both further simplify and focus the way we manage our business to drive sustainable profitable growth recovery. This will be achieved through a simplified and efficient governance structure, faster execution on operational efficiencies within the two new global segments, and further streamlining of our processes and portfolio. All of this supports our unwavering mission to provide the best possible care for our patients around the globe. 2022 has shown, that we operate in a very challenging environment. While we expect more headwinds than tailwinds, and no governmental support for 2023, our transformation efforts and sharpened focus will enable us to accelerate the execution of our strategic initiatives and to return to earnings growth in 2024."

4. Siemens Healthineers
US$23.43 (+30%)
Headquartered in Germany, Siemens Healthineers is the medical technology branch of automation and electrics conglomerate Siemens.
2022 marked the first year of the company's "New Ambition" strategy phase and saw strong results as Siemen Healthineers sales (€21.71 billion) rose by 30% compared to 2021. Revenue increased notably across all segments: Imaging up by 5.8%, Varian up by 6.5%, Advanced Therapies up by 5.7%, and Diagnostics up by 6.6%.
In the Siemens Healthineers annual report, Bernd Montag, CEO of Siemens Healthineers AG, commented"Overall, the Siemens Healthineers team achieved excellent results in the fourth quarter and successfully concluded another fiscal year despite very difficult conditions. It is a sign of strength that in the first year of the 'New Ambition' phase of our Strategy 2025, we twice raised and achieved our annual targets for revenue growth and earnings. A continuous increase in order intake strengthens our confidence for the 2023 fiscal year."

3. Johnson & Johnson
US$27.43 (+1%)
Johnson & Johnson remains in the top 3 in 2023. J&J's medical devices segment, recently renamed to MedTech, includes a wide range of products used in the orthopaedic, surgery, interventional solutions, and eye health fields.
Sales for the company's Medtech division remained flat in 2022, in line with the previous 2 years. Growth was driven by focused commercial strategies, the successful launch of new products, and improvements in global procedure recovery. J&J also benefited from the acquisition of Abiomed, making them the global leader in heart recovery.
Looking ahead, J&J plans to put an emphasis on building digital capabilities, including AI, data science, and intelligent automation, which they say will fuel the next wave of innovation at the intersection of science and technology.

2. Medtronic
$31.23 (-1%)
After over five years in the top spot, Medtronic comes in second place in 2023. With more than 95,000 people across 150 countries, the company provides solutions using technology, from AI to connected care and beyond to treat more than 70 health conditions, including diabetes, neurological, cardiovascular plus much more.
Medtronic reported full year worldwide revenues of $31.227 billion, a decrease of 1.4% on a reported basis and an increase of 2.1% on an organic basis. A decline in earnings was as the results of unfavourable exchange rates and inflation. The company's medical surgical portfolio, which includes surgical innovation, respiratory, gastrointestinal & renal offerings, saw sales fall by 7.7% in 2023 due to a decrease for ventilator sales with lower Covid-19 rates compared to the prior year and an unfavourable performance in China. However, this was slightly offset with low-single digit growth for both the company's cardiovascular and neuroscience portfolios.

1. Abbott
US$31.27 (+4%)
Abbott takes the top spot in 2023 as the largest medical devices company in the world. With over 115,000 employees worldwide, presence in more than 160 countries and over 135 years in business, Abbott creates breakthrough products – in diagnostics, medical devices, nutrition and branded generic pharmaceuticals.
In 2022, Abbott saw sales for its medical device segment rise by 4%, thanks to a particularly good performance for diabetes care, structural heart and electrophysiology. The company also expanded it's portfolio with the FDA approval of Navitor, transcatheter aortic valve implantation, Eterna, rechargable spinal cord stimulator, Aveir, leadless pacemaker, FreeStyle Libre 3 system, glucose monitor and the expanded use of CardioMEMS HF remote monitor.
Robert B. Ford, chairman and chief executive officer of Abbott commented, "We significantly exceeded the EPS guidance we provided at the beginning of last year despite challenging global business conditions" he went on to say, "Our R&D pipeline continues to be highly productive with several recent and upcoming new product launches that position us well going forward."
IS YOUR MedicaL Device COMPANY AIMING TO GROW THIS YEAR?
At Proclinical, we work with a number of leading global medical device companies. Our dedicated medical device recruitment team are specialists in sourcing skilled and experienced professionals to fill a wide variety of roles across all areas of medical devices, medical technology and digital health. Find out more about our range of workforce solutions and how we can help your business grow globally.
INTERESTED IN WORKING FOR ONE OF THE TOP medical device COMPANIES?
At Proclinical , we are specialists at recruiting for all types of medical device jobs. If you're looking for a new position, simply use our job search tool to find the right role for you.