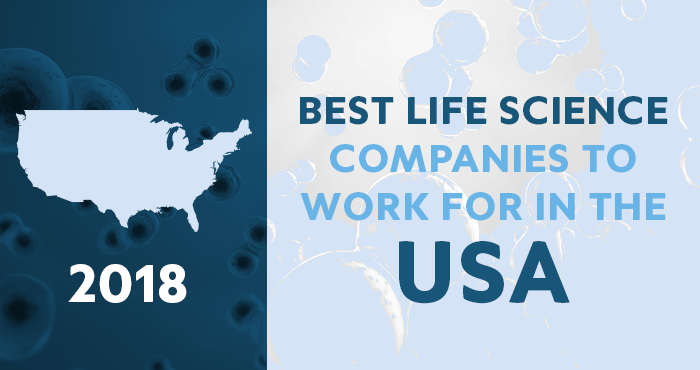 It is estimated that we spend 30-40% of our lives at work, so the importance of having a great employer should not be underestimated. It is something that not only affects your career, it affects your whole life and wellbeing – in a big way! In the life sciences industry – like any other – working for a great company where work is challenging but rewarding and where you have the opportunity and support to realise your potential is every working person's dream. So where can you find this level of fulfilment and who are the best life sciences companies to work for? To find the answer, we looked to the Fortune Best Companies List 2018 to find America's highest ranked companies in the industry.

The US life science industry provides millions of jobs across sectors such as pharmaceuticals, biotechnology, medical devices and health technology. The country is home to a flourishing mix of life science giants, innovative mid-sized organisations and rapidly emerging start-ups that provide a remarkable environment in which life science professionals can flourish. From all these great companies, we have picked out the top five employers for this list.
Not in the USA? You might like our global list of the Top Pharmaceutical Companies to Work for According to Glassdoor.
5. AbbVie
Headquartered in Illinois, AbbVie is one of the world's largest biotechnology companies since its separation from parent company Abbott Laboratories in 2013. It employs over 29,000 staff across multiple countries. Almost instantly, AbbVie has gained a reputation for being an outstanding employer. In 2018 so far, the company has made it on Forbes' America's Best Employers for Diversity list, was voted as one of the Fortune 100 Best Companies to work for, and achieved a perfect score of 100% for the Corporate Equality Index by the Human Rights Campaign Foundation. AbbVie has also fostered a great reputation for corporate responsibility, having been recognised by Civic 50 as one of the most community-minded companies in America for the 5th year running.
4. Novo Nordisk
Danish pharmaceutical giant, Novo Nordisk, may not have its roots in the USA but the company's American affiliate is very popular among employees. A truly global company, Novo Nordisk employs 40,000 across the globe, and approximately 6,500 in the USA. In 2018, the company was ranked #7 on the Best Workplaces in Healthcare and Biopharma list and featured on the Forbes Most Reputable Companies list. Novo Nordisk is also invested in making a difference outside of the company with its various social giving programmes, leading to the company being included on the 50 Best Workplaces for Giving Back in 2018.
3. Regeneron
Regeneron is a New-York based biotechnology company, employing over 6,500 worldwide. Despite its relatively small size, Regeneron has an excellent reputation as a leading life science employer. It was featured on Fortune magazine's 100 Best Companies to Work For and has been ranked #1 in Science magazine's global Top Employer survey for 5 consecutive years. Regeneron is a very environmentally conscious company with 94% of its waste diverted from landfill, as well as being involved in many volunteering programs such as 'Regeneron in the Community' and 'Day for Doing Good' in 2017. For this work the company was featured on Civic 50's Most Community Minded Companies list in 2018 for the second year running.
2. Stryker
Fortune 500 medical technology company, Stryker, is not only a world leader in medical devices but has also found great success as one of the best companies to work for in America. The company ranked on LinkedIn's Top Companies 2018: Where the World Wants to Work Now list thanks to its strong company brand and employee retention. Stryker has been featured on an impressive number of other employer lists recently, including Fortune's World's Most Admired Companies (2018), Great Place to Work's Best Workplaces for Giving Back and People magazine's Companies That Care (2017). The company also won the Gallup Great Workplace Award for the 11th consecutive year in early 2018. Employees have praised Stryker for its inclusive culture and philanthropic activities, which includes partnerships with medical charities such as Red Cross and Operation Smile.
1. Genentech
The best life science company to work for in 2018 is Genentech, the successful biotech subsidiary of the Swiss pharmaceutical giant, Roche. The company employs over 15,000 globally and has an outstanding reputation amongst employees. Genentech was recognised as a top employer by Science Magazine, Nature Index, Working Mother, Fortune and several others in 2017. The company was also awarded many times for its environmental and social efforts, including the Top Bay Area Corporate Philanthropist award and Heroes of the Community award.
Want to work for one of these leading life science employers? Proclinical Staffing recruits for positions across the life sciences industry across multiple locations in the US, including opportunities at many of the top employers listed above. Simply send us your resume to get started or check out our current job opportunities.