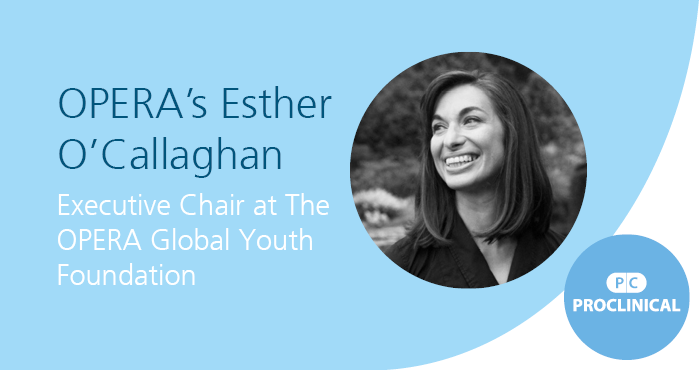 OPERA's Esther O'Callaghan: Young people's grit, determination and resilience is what drives me to help them find fulfilling work
Record-store-owner-turned-humanitarian Esther O'Callaghan is the founder of OPERA Global Youth Foundation, a charity that helps disadvantaged young people get into employment by harnessing the capabilities and expertise of recruitment companies in the UK.
Many unemployed youths find themselves in a vicious cycle that makes it incredibly difficult for them to rise above their circumstances unassisted. In the UK alone, over 400,000 16-24 year olds were listed as unemployed and 1.7 million were economically inactive, according to a 2018 report on youth unemployment. OPERA seeks to break this cycle by extending a helping hand to young people who want to work but are trapped in tough situations – rarely of their own making – that prevent them from gaining employment.
In this interview, Proclinical gets to know this inspirational woman who has dedicated much of her life to helping young people. Esther speaks candidly about her own experiences as a young person and the respect and admiration she feels towards them as they battle to overcome the many obstacles standing between them and meaningful employment – including disability, poverty, homelessness, abuse and poor mental health.
In the second part of the interview, we hear about why Esther has chosen to partner with recruitment companies and how they are uniquely equipped to help young people fight unemployment.
What inspired you to start up Opera?
Youth unemployment has a devastating and toxic impact on young people's lives. It keeps them in poverty, destroys their confidence, undermines their self-worth and belief and can lead to serious mental health issues as well as debt, addiction, crime, gambling and suicide. I don't believe it should or has to be this way.
In the talent and staffing industry I saw the possibility of harnessing the collective skills, talents and generosity of the industry to build a foundation that could make a significant difference to, ultimately, millions of young people's lives, both in the UK and globally.
What sort of impact do you see the organisation having on these young people?
Last year our supporters raised over £100,000 which provided 231 young people with thrive bursaries for the essentials they needed to be able to move into employment.
Of those, 61% had mental health issues, 55% have a disability and 18 young people needed a birth certificate. It staggers me that in 2018 being a disabled young person excludes you from work in the UK. Also, if you have been in care, you don't even have your own birth certificate, which means you don't know your National Insurance Number - which means you can't get a job.
We want to support as many young people as we possibly can, and the way individuals and companies can help us do that is by donating to the thrive fund.
Can you talk us through a particular experience where you felt you had a profound impact on a young person's life?
I don't really see it like that. The young people I've had the opportunity to meet have a profound impact on me. In them I see grit, determination and resilience to overcome some terrible, terrible situations and challenges that you would hope no child or young person should ever have to face. I am inspired, and quite often saddened, angered and heartbroken, by the things they've gone through and this is what drives me to do this work.
You received an OBE – what a great achievement! What was that like?
I was 26 so it was a very surreal experience! It's not what you expect to be given when you are that young. It is a huge privilege that someone took the time and effort to nominate me, but it also felt like quite a heavy responsibility for a long time. It's a while ago now so I think I've got used to it and I'm fortunate to have enough proper mates who don't allow it to go to my head!
What are a few of your interests outside of your current work at Opera?
A team of us raised money for thrive bursaries by embarking on possibly the most ridiculous thing I've ever done; a full IRONMAN from a baseline of not being able to swim, cycle or run! But through the training I found something I actually love and I'm now training to be a British Triathlon Level 1 Coach. I want to encourage more women to get involved in multi-sports as a way to boost confidence, self-esteem and do something that makes them feel great!
I read that you used to run a record store, which you also used to help young people – did this inspire you to found OPERA?
Throughout my life I've faced some really tough times, but I've been very fortunate that there were people willing to give me an opportunity. One of those was Tony Wilson, Factory Record's boss, and it was with his blessing that I opened a record store in a Manchester. Without that support, it's harder than people realise when you're a young person to make your way.
I find a lot of things that happen in the world hard to deal with: abject poverty, homelessness, plastics in the ocean, and I feel overwhelmed by the scale of it. I think supporting young people into employment is a useful contribution that I can make and in turn, I hope it makes a real difference to their lives.
What do you think makes OPERA so successful?
Stubborn determination, a small, committed brilliant team and amazing supporters!
What effect do you think recruitment companies can have on these young people's ability to gain employment?
Recruiters are uniquely placed to provide skills-based volunteering that can meaningfully increase a young person's chance of gaining employment. Our skills volunteering programme links recruiters directly with young people who want to enter the world of work but struggle to do so.
There are some really simple things that people take for granted - like how to behave in an interview, what to wear, to remember to leave your name and number on a telephone enquiry for a job etc. But if you've never been shown or taught these things - how are you supposed to know? Being given the chance to meet employees and visit offices makes a big difference to young people entering work for the first time.
Do you have any advice for employers on how to help young people get into work?
Our partner platform; www.thriveinwork.org is launching this year for employers who believe young people are a great asset to their business and are willing to invest in those currently excluded from a competitive jobs market, but who deserve an equal opportunity to pursue a meaningful career with a good employer.
Proclinical is a Gold Member of the OPERA movement and wishes to use its recruitment expertise to work alongside Esther and the OPERA team to mentor and support as many of these young people as possible. You can follow our involvement in this worthwhile cause or to find out more information about our partnership with Opera here.