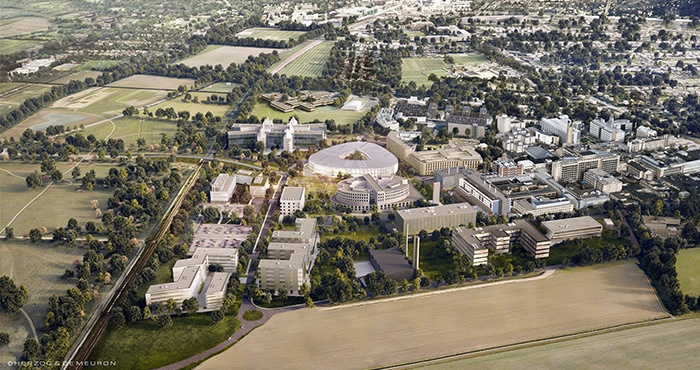 The UK has one of the world's largest pharmaceutical industries, steeped in both history and innovation – two things that it shares with the city of Cambridge. With an increasing number of pharmaceutical companies choosing Cambridge as the site of their global or European headquarters, could the city be set to become the new centre of the pharmaceutical industry in the UK, or even Europe?
Cambridge is one of the UK's most globally renowned cities, with a rich history of innovation in science and medicine through its world-class university and state-of-the-art science park. The science park, which was founded by Trinity College in 1970 and has strong links with the university, is the oldest science park in the UK and is home to a large concentration of biopharmaceutical, biotechnology and medical research companies, including Takeda, Mundipharma, Napp and Amgen.
Pharmaceutical companies in Cambridge
Cambridge will soon become the new location of AstraZeneca's global headquarters after the top 10 pharma company began work on its new site earlier this year. The new state of the art Global R&D Centre and Corporate Headquarters, positioned on the Cambridge Biomedical Campus, will bring approximately 2000 jobs to the city. The new site, due to open in 2016, will be the company's largest oncology centre worldwide and will also focus on R&D for cardiovascular and metabolic diseases; respiratory, inflammation and autoimmune diseases; and conditions of the central nervous system. Additionally, it will have medicinal chemistry, high-throughput screening and cellular and molecular biology, as well as clinical development and pre-clinical research capabilities located on the site.
AstraZeneca said in a statement, "The move to Cambridge reflects its global importance as a centre for biopharmaceutical research and development. The city offers invaluable access to world-leading scientific expertise and provides excellent opportunities for collaboration with renowned academic research institutions, pre-eminent hospitals and cutting-edge biotech companies."
AstraZeneca's move also brings them closer to their biologics division Medimmune, which has been based in Cambridge since it was acquired by AstraZeneca in 2007 and subsequently merged with local company Cambridge Antibody Technology (CAT), creators of the first fully human antibody blockbuster adalimumab.
The city has already begun to establish a reputation as the preferred choice for multinational companies to base not only their UK site but also their European headquarters. The city already plays host to the European headquarters of Amgen, as well as leading global contract research organisation PPD, and is one of Mundipharma's two major European sites. Cambridge is also becoming a location of choice for US companies looking to move into Europe for the first time. Clovis Oncology significantly chose Cambridge as the city for its European centre of operations over every other European city. The growing US biopharmaceutical company, which is one of the leading developers of precision medicine for cancer treatments, is one of several organisations in Cambridge with a specific focus on oncology.
GSK, Takeda, Napp and GW Pharmaceuticals are also among the list of high profile pharma companies with sites in Cambridge, in addition to an ever increasing number of emerging biopharmaceutical and biotechnology companies.
Pharma jobs in Cambridge
The list of pharmaceutical companies based in Cambridge is on the rise, but moreover, it is the companies that are based in Cambridge that seem to be experiencing the most growth and creating the most jobs. In addition to AstraZeneca, who were responsible for creating more new jobs than anyone else in the pharmaceutical industry last year, other pharma companies in Cambridge are expanding and looking to increase their headcount. Recent figures show that Cambridge is currently the best city in the UK for jobseekers, with up to ten jobs available for every jobseeker in the city, many of which are pharmaceutical jobs.
The university which has produced world famous scientists and Nobel prize winners recently announced that it will be partnering with pharmaceutical companies in Cambridge in a mutually beneficial capacity. Cambridge University's new consortium will act as a match-making service between pharmaceutical companies and researchers with the aim of developing and studying precision medicines for some of the world's most globally devastating diseases.
The rapid growth of the pharma sector in Cambridge has created a huge demand for talent in the city. Although Cambridge is in a fantastic position to recruit local talent, the rate of growth is such that it also requires recruitment from outside the city too. AstraZeneca has relocated much of its workforce from its other UK sites in London and the North West to its new Cambridge facility and other pharmaceutical companies are increasingly searching for pharmaceutical professionals willing to relocate to Cambridge.
Cambridge pharmaceutical companies are increasingly looking for experienced pharmaceutical professionals to relocate to Cambridge to supply the demand. There are currently a high number of pharmaceutical vacancies in Cambridge that companies are looking to fill.
Centre of the UK pharma industry
London and the M4 corridor, which runs from West London to South Wales, have often been considered as the main locations of pharma in the UK but the rapid growth of the sector in Cambridge, stemming from its history of educational excellence, state-of-the-art facilities and close ties into research, is attracting new talent and significant investment. Cambridge pharma companies are generating thousands of new pharma jobs and as more companies invest, the infrastructure becomes even more appealing to others looking to gain access to the talent and resources that come from having so many companies together in the same city. Cambridge is certainly making a case for itself to be considered as the number one city for pharma in the UK and one of the prime locations for the industry in Europe.