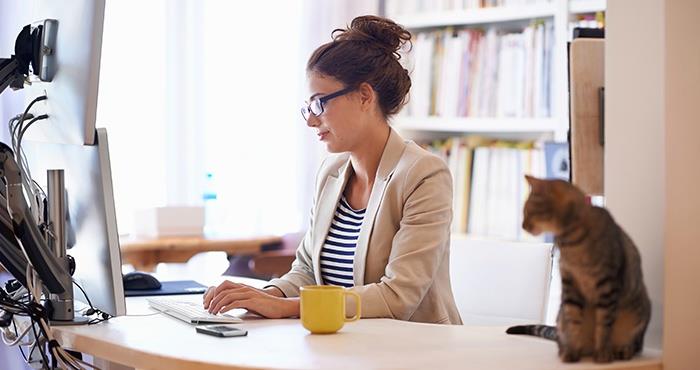 Working from home can have benefits for both companies and their workers alike, so it's no surprise that home-based jobs in the pharmaceutical industry are increasing. Proclinical's life sciences recruitment specialists have been assessing which types of pharma jobs offer the greatest opportunity for working from home.
Owed largely to improvements in technology, globalisation and changing attitudes from employers, there are now a greater number of home-based pharma jobs than ever before. Over the past few years, the advantages of having all employees in one building have been diminished by cloud computing and video conferencing. In companies whose workforces are distributed across the country or worldwide, the time and cost associated with traveling to face-to-face meetings have become both unnecessary and uneconomical with the technology at their disposal, and employers are now increasingly able to offer their staff more flexible arrangements to work inside their own environment to the hours that fit with other time zones.
While today's technology has been an enabler for many businesses to connect their global workforce (while also saving costs on travel and desk space) the number of people who do clinical research work from home is likely to increase further as mobile health (mHealth) begins to change the way in which clinical studies are conducted.
Official figures from the UK's Office of National Statistics show that the number of people working from home has been increasing every year since records began, with professional and technical occupation groups among those with the highest percentage of home workers.
However, there are many companies that still choose not to allow home working, believing that, either through lack of trust or infrastructure, their staff will work better together in a central environment. Although many great ideas and insights often come from working side-by-side with colleagues or through chance meetings at the water cooler, research suggests that allowing employees to work from home can be beneficial for businesses. Freedom and autonomy is valued by employees and in turn increases motivation, performance, and relationships according to workplace flexibility studies. Communication has long been seen as a barrier to home working but, in an ever more connected world, this is not the challenge that it once was.
The main reasons given by the by employees for wanting to work from home relate to health and productivity. 88% of people reportedly think that working from home would reduce their levels of stress, and 61% felt that getting away from office politics would increase their productivity according to the study.
Due to the nature of some roles, certain positions within the sector are more likely than others to have the opportunity to work from home. Here's our list of the top 5 pharma jobs that don't require you to go into the office to do your job.
Clinical Research Associate
A clinical research associate's role will usually require self-motivation because not a lot of time is spent working with colleagues in a team. More often than not those who work as a CRA within clinical research organisations will tend to be home-based and CRAs who operate regionally are more likely to work from home locally within their region. This avoids unnecessary travel when conducting site visits, which can sometimes be a considerable distance from the the company's offices. Latest CRA jobs »
Medical Writer
A medical writer's job is generally quite structured and requires little outside influence. While some more junior medical writers might feel the benefit of peer interaction within an office environment to help to develop their skill set, most senior medical writer jobs are based at home. When writing clinical evaluations, for example, it is important to be able to create an environment in which they can concentrate on the task at hand and manage their own schedule in order to meet deadlines. Latest medical writer jobs »
Regulatory Affairs Project Manager
Many of the administrative tasks typically performed by a regulatory project manager, particularly operations and publishing, require little input from peers so it is not always necessary to work in an office and they can do much of this regulatory affairs work from home. Although the role requires liaising across multiple teams, they are often in different locations or time zones to each other which makes it more efficient to work remotely. This is particularly common when project managers in the UK are liaising with their US-based colleagues and so need to work during unconventional hours. Latest project manager jobs »
Clinical Data Analyst
In the technical sphere most of the work happens on the computer and online; therefore, the location of the person is no longer as important, as long as they have a reliable internet connection. This presents employers with the ability to source talented workers without geographical constraints. With a surge of cloud-based services for the collection of data, remote working enables pharmaceutical companies to conduct large-scale studies globally. Latest data analyst jobs »
Statistical Programmer
As with clinical data analysts and other biometrics jobs, statistical programming can be done from home as long as there is a good internet connection and an ability to liaise with an on-site study lead. Standardised programming languages ensure that each program works cohesively with those developed by other members of the team. Latest statistical programmer jobs »
Proclinical Staffing currently has a number of vacancies in pharmaceutical, biopharmaceutical, medical device and clinical research organisations for home workers. If you are interested in life sciences jobs where you can work from home, please send us your CV or apply to our home-based jobs online.